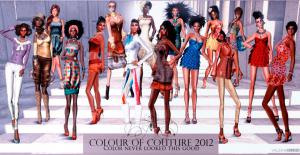 From Interview Spotlight: Colour of Couture
Founder Reign Congrejo by Shelby Matfield April 26, 2012
Shelby Mayfield: Why Colour of Couture?
Reign Congrejo: Colour of Couture came to be to represent all of the women of color whom otherwise would never be recognized. I want everyone to understand that women of color come in all shapes, sizes and color. Whether light, medium or darker colours, we are all women and should have the same opportunity as anyone else. These women are very unique in nature and should be built up as they are beautiful, witty and most definitely smart. They deserve their day.
SM: What do you hope to accomplish from this contest?
RC: To bring them into the mainstream of fashion as well as charitable works that they have been doing for centuries, just never recognized for their public works.
SM: What is it that you are looking for to represent your pageant?
RC: Miss Colour of Couture will be that woman who can represent the celebrated diversity of models in SL. Unique in appearance and styling. Miss Colour of Couture will be a combination of grace and elegance and have a commanding presence on the runway. Miss Colour of Couture will be a welcomed ambassador to the fashion world with a care and ambition to help others. . She will represent at all times as a woman of colour and will be responsible for awareness of minority issues that exist, not only being a woman of color but also just being a woman. She will work for the International Women of Color Day to bring more awareness to this day and what it stands for. She will work with different organizations that represent such things as women in poverty, women in war, etc.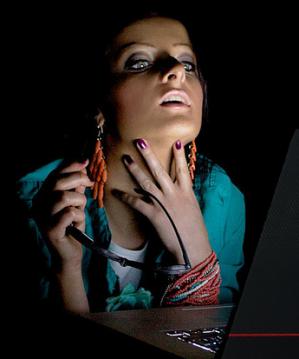 Aurora©2003*
Africa, Up and Down America, Asia, Antarctica, Australia; Indian, Pacific,
the Atlantic All that land and ocean,
We only have one world.
We are all the colors of the rainbow; if not united, just a bunch of lines
When we come together, we let our light shine.
We are the Aurora, Aurora of our time. *
by Suzanne Brooks & Reggie Graham
The theme and theme song of
Women
World
Culture
--
Aurora
-- highlight the movement from division based on a negative emphasis on difference to unity founded in our common humanity defined by DNA and diversity refined by cultures and environments. The
Aurora
Blog of
Women
World
Culture
will encourage constructive and civil exchanges of ideas; stimulate ideas and suggestions for unique and positive programs and services; and provide recommendations and support for education, research and documentation addressing social issues and problems, reciprocal communication and inspiration, sharing and leadership through the arts. The success of this blog will be rooted in mutual caring for each other, with the willingness to learn from each other. Honor and dignity will be the rule. The blog is published with the same media rules, requirements and guidelines required for advertisers on this site. Readers can refer to that section for additional information.
Welcome to
Aurora

: The

Women

World

Culture

Blog.
Aurora Blog
The WomenWorldCulture Blog serves as a source of information regarding current events, which are highlighted because of importance to women, cultural communities and/or environmental sustainability. We encourage readers to visit often to read updates and new entries and then to share the information with others.
Title 9, most powerful law against sex discrimination in education and educational institutions, is nearly ended.
With the following steps, Title 9 is nearly gone: Secretary of Education Betsy DeVos is rescinding the advances made to protect women employees and students. The DeVos actions include an interim guide which "differs from the 2011 Dear Colleague letter in several key ways. Perhaps most notably, it rescinds the requirement that schools use a "preponderance of evidence" standard to adjudicate sexual assault cases, and instead allows schools to use a "clear and convincing" evidence standard, which puts a greater burden on accusers. This is a change that critics of the 2011 guidelines have been requesting for some time, and one many advocates say is unfair to survivors.
The interim guide also allows schools to deny survivors the ability to appeal, and lifts the time limit for completing an investigation. Without a time limit, investigations might drag on for years, as they sometimes did before the 2011 guidelines were in place, Peterson said. In some cases, she said, survivors dropped out of school because their investigations went on for so long.
Unanswered Letters Blog
This blog is an acknowledgement of the millions of serious letters written by people around the world to representatives of governments, businesses, print and electronic media, businesses, community groups and individuals to address many issues and concerns. So often, had the contents of these letters be read and responded to, tragedies and crises could have been avoided.
Too often, those in power choose to ignore the writer and the letter. This blog shows that there are people with similar good ideas, urgent complaints, and important information which deserved to be heeded. The goal of this blog is to show that people with similar concerns are working to make changes and have not given up on their ideas.
By sharing ideas, people can contribute to needed research and continued discussions to bring about change. When it is clear that these are not isolated, infrequent issues, masss of people can be encouraged to continue speaking out, in writing as much as vocally. When we realize the large extent of idfentified problems, we are also encouraged to take some appropriate actions. Those actions could be to ask some of the recipients of letters why they have not responded and when will they?