Chicano Consortium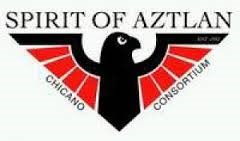 Chicano Consortium - Beginning & Mission. We rose from humble beginnings in 1992. With a handful of idealist individuals - ex- Mechistas, Raza Unida Party, Democratic Party - and just plain community folks who wanted a change to occur within the Chicano/Latino community.
Welcome to the Chicano Consortium's Official Web Site
The "Spirit of Aztlan"
We're proud to bring you always the most current information on what's affecting our community and the world around us . This web site was created so that our members/community can be kept abreast and aware of what is happening in and around our community. Be sure to check the site often as new items and updates will be added on a weekly basis. The top section will be more the National and State actions. The "Save the Date" section is for other "Happenings" in the Sacramento Area.
Gracias and have a Great & Blessed Day.... If you have upcoming events that you would like us to post, please send to
This email address is being protected from spambots. You need JavaScript enabled to view it.
.
Remember you are the ones we've been waiting for !!!!
"Be the change you wish to see in The World"...
VIVA VILLA: The Mexican Revolution
Written by Samuel S.Ortega & Xavier C. Tafoya.
For more go to www.PanchoVillaRevolution.com
Professor/Community Leader - UC Riverside Political Scientist
"Armando Navarro"
"Global Capitalist Crisis and the Second Great Depression"
"Times of crises produce times of Opportunity,"
For more call Maria Ann Gonzales at 951-827-3821
Must read for our times !!!