Triangulcion Kultural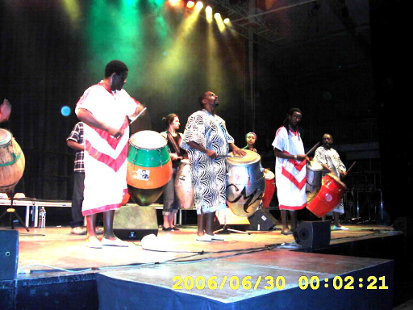 Triangulacion Kultural (TK) the vision of African and Afro-American artists & community workers-Congolese, French & Uruguayan. TK shows the self-initiated collaboration crucial to transform Earth into sustainable planet of justice, equality and peace
Aurora History
In 2008 in California, a meeting of two great musicians of the African Diaspora in the Americas took place between Suzanne Brooks and Sergio Ortuno.
Suzanne Brooks of Sacramento, California, is an author/social advocate, bandleader of The Jazz Generation, and founder and social entrepreneur of the International Organization for Women of Color Day.
Sergio Ortuño of Montevideo & Canelones, Uruguay, is a social activist, educator/follower of the Uruguayan African matrix, founder of the Uruguayan School of Candombe, President of Triangulacion Kultural RD Congo - Uruguay - France.
The meeting brought together their music, social advocacy and organizations to form Aurora, a new fusion of arts, aspirations and social goals.