The Jazz Generation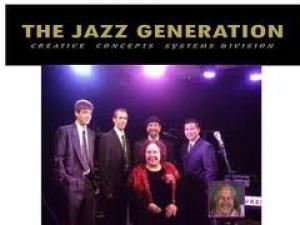 Classy, Professional, Versatile, Entertaining: Suzanne Brooks and the innovative musicians of The Jazz Generation perform in many genres for Festivals, Corporate & Community Events, Conferences (as performer and speaker), Universities (U of PA, U of California Davis, Harrisburg Community College, CSU Pomona), Night Clubs/Restaurants, Wineries, and Weddings. They have performed in venues such as the prestigious "Taste of the Bay" at the St. Francis Yacht Club in San Francisco, the Harlem Theater in New York, Hilton Hotel in Washington, DCand corporations such as RC Willey, Inc., Fulton Avenue Business Association, Gaffers Film Festivals in Sacramento and LA, and Conventions.
The Jazz Generation: Suzanne Brooks (vocals); Chris Lee (piano); Jim Wendt (bass); Dave Peters (drums); Michael Otwell (sax/flute). Talented, accomplished, entertaining group performing huge repertoire in varying formats in great venues, including:
Corporate: RC Willey; Del Webb Active AdultCommunity; Fulton Ave. Business Association

Festivals: Sacramento and LA: Gaffers Film Festivals;

Community Events: Annual Sacramento Community Women of Color Day/Diversity Events;

Women Civic Improvement Club of Sacramento, Annual Open Houses

Arts Events, Night Clubs, Restaurants, Weddings, Charitable/Cultural & Private Events
The Jazz Generation has recorded 11 CDs--8 on sale online at CDBaby:
The most recent CDs/DVDs, recorded at The Track Shack Studios, are scheduled for release later in 2013.
Suzanne Brooks has written, produced and directed original shows for performance by The Jazz Generation:
"Great Women of Jazz, History of Women in Music, 1890-1990" (named one of the best shows to see by the Sacramento Bee Newspaper and recipient of a great 3 page review by the Sacramento Observer Newspaper.

"I Believe I Can Fly," featuring 112 year old Mother Ruby Muhammad, about which publicity reachd more than 10 million-locally, nationally & internationally.
The Jazz Generation has expanded its repertoire & performances into R&B, Latin, Soul, Pop, Gospel, Broadway, Funk, Country and more. Upon request, sax, guitar, and choreographer & dancers can be added. The Jazz Generation offers high quality original, standards and cover music, original arrangements and unique performances.
Wedding performances include Ceremony, Cocktail Hour, Dinner, & Dancing with vocals available in English, Spanish, Latin and more. Music samples online.

Suzanne Brooks: "Lifetime Achievement in the Arts and Arts Advocacy" Award,
from City of Sacramento & Metropolitan Arts Commission
Media Coverage: The Jazz Generation has appeared on local and regional commercial and cable television programs with distinction, reflecting the extensive musical training and experience of all band members. Vocal solos range from fast, uptempo vocalese and scatting to swing and romantic ballads. Selections are reminiscent of singers like Ella Fitzgerald, Nina Simone, Billie Holiday, Nancy Wilson, Nora Jones, Shirley Horn, Blossom Dearie, Annie Ross, Betty Carter, Alicia Keys and others, spanning more than 100 years of songs, from 1890 to the present.