The Sacramento Observer
November 1962: the start of THE SACRAMENTO OBSERVER, a leading African American newspaper in America. Its principal architect was Dr. William Hanford Lee with his immediate family, Mrs. Kathryn Lee, and sons, Larry, Billy and Roderick (deceased) in leading roles in the family owned business.
Few, if any, of this country's Black newspapers can match The Observer's record of publishing a publication the size of 300 pages and larger; or top the unprecedented recognition given to THE OBSERVER for its outstanding historical, governmental and youth coverage; or equal the consistent publishing leadership of the paper with its supplements and special editions.
Six times THE OBSERVER has been named the nation's top Black Newspaper, receiving the John B. Russwurm trophy, given annually by the National Newspaper Publisher's Association. After nearly five decades of service, THE OBSERVER has been honored with over 600 local and national awards for outstanding community service and journalism excellence.
People like Joe Stinson, director of advertising sales; OBSERVER co-founder John Cole, a retired Sacramento businessman; senior writer, Genoa Barrow; former editors and senior writers Wilbur Miller, Dr. Joe Dear, Bill Davis, Shawn Ortiz, Mel Assagi, Larry Hicks, Donna Burke, Joel Maybury, Kevan Carter, Mardeio Cannon, Curtis Haynes, Staci Bush, and what publisher Lee has called, "a fine, dedicated staff." Grown to the point where it has justified an average-size weekly publication of about 80 pages, with a number of additional inserts. Publisher Lee says THE OBSERVER has served the Black community of Sacramento and Northern California "proudly."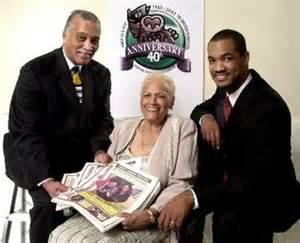 "Publishing a newspaper is certainly not one of the easiest tasks in the world, but it has to be one of the most exciting. We continue to solicit support of readers and advertisers in our market to make THE OBSERVER one of the most valuable significant communication enterprises in America," the publisher continues. "Informing the community is our mission. With untiring dedication, a focus on the changing direction of the industry, and the growing support of others, we will achieve this mission," relates Dr. Lee.
Dr. William H. Lee, Mrs. Kathryn Lee, Larry Lee