Suzanne Brooks
Vocalist, Songwriter, Bandleader, The Jazz Generation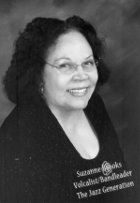 Singer, Songwriter, Bandleader of The Jazz Generation Band. A Jazz Stylist who writes, produces & directs her own musical shows. Independent recording artist with 11 CDs, covers and original music. Literary writer: poems, fiction, nonfictiction, one-act drama; public speaker on social issues.
HISTORY AND ACHIEVEMENTS
A singer since early childhood, Suzanne spent many years in church choirs and remains fond of all kinds of religious music, from hymns and chants to gospel. She credits her vast repertoire in jazz, pop, R&B, folk and country to exposure to many kinds of music in a variety of religious environments.
SHOWS
"Great Women of Jazz, 1890-1990, History of Women in Music"
Original Show performed with The Jazz Generation, dancers and narrator for 4 years, on stage and in the round/dinner theater

"I Believe I Can Fly"
Stage show debut of 112 year old woman with her original stories and poems and music by Suzanne Brooks/The Jazz Generation from decades of the story teller/poet's life. Publicity from this event went viral, reaching more than 10 million worldwide.
RECORDINGS: 11 CDS (9 in jazz): "Even Sad Memories Are Sweet;" "Miles to Go Before I Sleep;" "Great Women of Jazz: A Tribute;" "Listening To The Radio" (original single); "The Strength to Go On" original R&B single);"Lasting Impression" (original single, with Reggie Graham, pianist/co-writer); "Aurora" (original single, co-written with Reggie Graham with Sergio Ortu o, Candombe drummer, Montevideo, Uuruguay); "Candombe pa' la Lia" (original single, co-written/performed with Sergio Ortu and Eddie Encarnacin); "Let Us Shine" (original holiday song (Christmas, Hannukah, Kwanzaa, co-written with The Jazz Generation musicians--Chris Lee-keyboard; Jim Wendt-Bass & Dave Peters-drums); "Time After Time" (2 CD set, live recorded @ The Track Shack Studios, 1st set-covers; 2nd set originals, except for finale--See Album Notes for all composers). Additional compositions include: Lyrics to "Up Jump Spring," music by Freddie Hubbard.
Vocal Training
Chris Beatty, Nashville, TN, formerly of The Chicago Opera and producer of The Vocal Coach CD series; Seth Riggs Speech-Level Singing Vocal Camp 2002 and 2003, St. Mary's College, Los Angeles; Reinhardt Krekow, Speech Level Singing Coach/Seth Riggs Associate, Sacramento; Bobby McFerrin, Master Class, Oneida Institute, Rhinebeck, NY; Richard Smallwood Gospel Workshop, Sacramento; Lucy McKinney, Gospel Vocal Instructor.
Education
MA, English/Creative Writing, Washington State University, Pullman, WA
BA, English and Education, LaSalle University, Philadelphia, PA
EdD (ABD) Educational Leadership and Change, The Fielding Institute, Santa Barbara, CA
EdD (ABD) Adult Education & Administration of Justice, Penn State University, University Park, PA

Education
MA, English/Creative Writing, Washington State University, Pullman, WA
BA, English and Education, LaSalle University, Philadelphia, PA
EdD (ABD) Educational Leadership and Change, The Fielding Institute, Santa Barbara, CA
EdD (ABD) Adult Education & Administration of Justice, Penn State University, University Park, PA