Candombe pa' la Lia (single)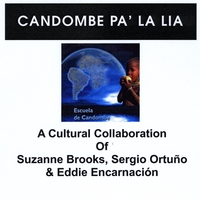 5.00
Suzanne Brooks, Sergio Ortuño & Eddie Encarnacion © Copyright - Suzanne Brooks, lyrics; Sergio Ortuño and Eddie Encarnacion, music / Women of Color Day (884502775754)
TRACKS: 1. Candombe Pa' La Lia 3:59 single only
Notes:Suzanne Brooks, singer/songwriter, bandleader of The Jazz Generation; also writer with new books being released in 2011 in nonfiction and poetry.
Her shows, "Great Women of Jazz, 1890 to 1990" and "I Believe I Can Fly" which featured 112 year old Mother Ruby Muhammad reciting poems and stories, was widely publicised and acclaimed across the country.
Sergio Ortuño, master drummer and Director of the Candombe Drum School in Montevideo, Uruguay. Also author of a majjor book on Candombe, publicized in Uruguay, US, France and Senegal. Has recorded widely with other bands in Uruguay and other areas in Latin America and the US.
Eddie Encarnacion, remarkable bassist, guitarrist, and composer who has collaborated with Sergio on a variety of musical projects and directs his own studio.
"Suzanne Brooks, cantante y compositora, directora de The Jazz Generación, también escritora de libros nuevos que son lanzados en 2011 en ficción y poesía. Sus espectáculos, "Grandes Mujeres de Jazz, desde 1890 hasta 1990" y "I Believe I can fly", que presenta los 112 años de edad de Mother Ruby Muhammad recitando poemas y cuentos, tuvo amplia difusión y fue aclamada en todo el país.
Sergio Ortuño, percusionista, Maestro y Director de la Escuela de Candombe Triangulacion Kultural en Uruguay, presidente de la Asociacion Triangulacion Kultural. También autor de un libro sobre Candombe "El Tambor y sus Voces", difundido en Uruguay, EE.UU., Francia, Belgica, Alemania, Islas Canarias, Senegal entre otros. Ha grabado con numerosos artistas en Uruguay y otras zonas de América Latina y los EE.UU, produciendo en el 2001 l Cd Musica Negra de la Ciudad de Montevideo Vol 1.
Eddie Encarnación, bajista, notable guitarrista y compositor que ha colaborado con Sergio en una variedad de proyectos musicales y dirige su propio estudio."