Escape Is Not An Option: Poems, Stories from 1980s-1990s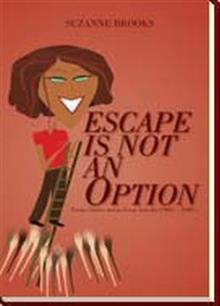 $12.95
A collection of poems, stories and essay presents issues affecting women writers and all women. The poems address a gamut of emotions and experiences that go beyond the experiences of women to universal roles and relationships. In the story, "Homeboy," the author weaves together seemingly unrelated lives into the connection we all have with each other.
This collection of poems and stories draws the reader's sensibility close to the hurting point. In "Da Man Thing" the heroine moves from a breathtaking rendezvous to marriage. There are no sentimental sayings or vows from her lover, just the bone bare facts the he "Da Man." She moves from being a lover to wife and mother, loving him all the time as he acts less and less like an honorable man. Eventually, she begins to love herself enough to realize that only she can set herself free and that in true love there is reciprocity.
Throughout the book, Suzanne Brooks savors many kinds of love. The poems contain the bitter sting that accompanies the sweet taste of love. She succinctly describes the love of a mother and daughter in "inheritance." A mother loves her daughter, but has to contain fierce feelings of jealousy as the daughter absorbs the father's affection. "Lines for the Lonely" tells of the sibling love the writer has for a younger brother who was a musician. He is a good musician who brings happiness to others but never finds it for himself. In the poem, "Who" Brooks explores self love and the demands our culture makes on women at various ages. The collection is though provoking, poignant, and beautiful.