Greeting Cards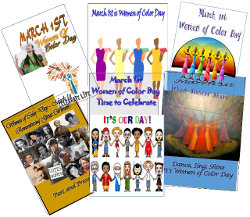 New!
First Official Women of Color Day Greeting Cards
© ™
Buy cards to send to honor outstanding women.
Give sets of cards to women, men, children, youth and organizations.
Spread the practice of recognizing kindness, courage, talent & achievement.

Set of 6 Greeting Cards - $9.99
Great gifts for many occasions:
Women of Color Day: March 1st
Women's History Month: March
Cultural Occasions, Honors & Awards
Recognition, Diversity Events
Personal, Organizational, Community
Holidays, including Thanksgiving, Women's Days,
Women of Color Day Products: Cards, Books, Plaques, Theme Song, Speakers
Sales Support Commemorations. Education & Research
https://www.womenworldculture.com/honoring-women-of-color-supporters-through-the-years
CDs/Bookings of The Jazz Generation, including "Great Women of Jazz" Show
https://www.womenworldculture.com/the-jazz-generation
This email address is being protected from spambots. You need JavaScript enabled to view it.
(916) 483-9804

Shipping (within US)
Regular Mail 3.75
Total: based on shipping
Email or Phone for Fastest Service or International Shipping Charges.