From Interview Spotlight: Colour of Couture Founder Reign Congrejo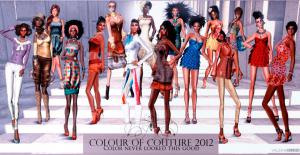 From Interview Spotlight: Colour of Couture
Founder Reign Congrejo by Shelby Matfield April 26, 2012
Shelby Mayfield: Why Colour of Couture?
Reign Congrejo: Colour of Couture came to be to represent all of the women of color whom otherwise would never be recognized. I want everyone to understand that women of color come in all shapes, sizes and color. Whether light, medium or darker colours, we are all women and should have the same opportunity as anyone else. These women are very unique in nature and should be built up as they are beautiful, witty and most definitely smart. They deserve their day.
SM: What do you hope to accomplish from this contest?
RC: To bring them into the mainstream of fashion as well as charitable works that they have been doing for centuries, just never recognized for their public works.
SM: What is it that you are looking for to represent your pageant?
RC: Miss Colour of Couture will be that woman who can represent the celebrated diversity of models in SL. Unique in appearance and styling. Miss Colour of Couture will be a combination of grace and elegance and have a commanding presence on the runway. Miss Colour of Couture will be a welcomed ambassador to the fashion world with a care and ambition to help others. . She will represent at all times as a woman of colour and will be responsible for awareness of minority issues that exist, not only being a woman of color but also just being a woman. She will work for the International Women of Color Day to bring more awareness to this day and what it stands for. She will work with different organizations that represent such things as women in poverty, women in war, etc.